Brands
Triple R
Brief Introduction
Triple R oil cleaners were the first to allow 'total cleaning' of industrial hydraulic oil and lube oil, guaranteeing oil purity by removing everything from solid Particles to water to sludge and oil oxidation residues. Over the last 40 years we have continued to invest significantly in R&D, developing a wide range of new products to augment our initial oil cleaning systems. With a qualified team of customer service representatives and engineers we have a solution for every lubrication and oil related application. From bypass and off-line oil cleaning systems, to mobile rigs, water separators, oil separators, to centrifuges, purifiers and air bubble removers.
Belief
Triple R believes that it is a vital duty for everyone in the world to protect our beautiful environment for present and future generations. We operate our business responsibly as a filtration & separation system manufacturer in respect to resource conservation. Triple R Group members are all engaged in "RRR": Reduce, Reuse, and Recycle.
Mike Morinaga
Chief Executive Triple R Group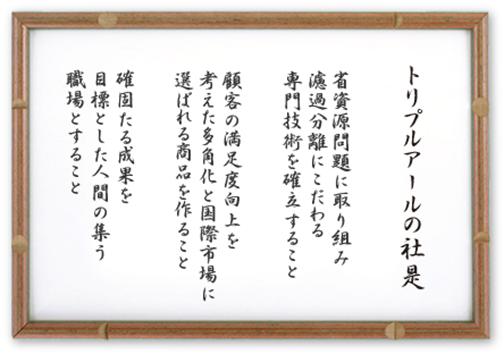 Products
Copyright © 2023
San Shin Co., Ltd.
All Rights Reserved. Designed by
E-Show